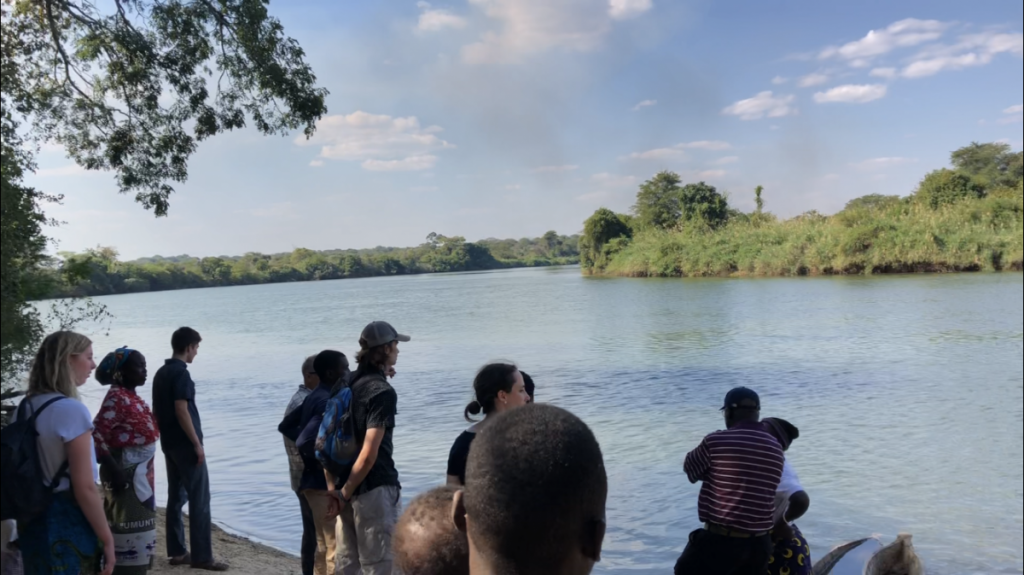 In the words of Nasir Jones, "I don't know how to start this [thing]," so I'm just gonna type whatever comes to mind.
First, a preface. To friends, future friends, family, and as a reminder to myself, the purpose of this trip is not aid, vacation, nor cranking out a couple extra credits. As stated in previous posts, accompaniment is why we are here and at the end of the day, the friends we make, trips we take, and amount we grow are products of the process towards that goal. An important quote we continue to ponder, and I encourage readers to dwell on as well, is as follows:
"If you have come to help me, you are wasting your time, but if you have come because your liberation is bound up with mine, then let us work together." -Lilla Watson
I know Janeen has already included Dr. Watson's words in her post but I only repeat them here because of their importance and the implications they have towards intent behind action. Please send prayers, thoughts, and/or posi vibes this way for us to make the right moves supported by the proper intentions.
Anyway, yesterday the health team (Annika, Ellie, Megan, Preston, Rachel Walls, myself, plus honored guest Bryce Kreiser) as well as Mama Kitende, Mama Josephine (Josie Bada$$- I'm starting that, let's make it stick), Josh, Br. Sitali, and Fr. Baraza, were invited to Kalundola to teach a brief bit on nutrition. We packed into our "trusty" land cruiser, six in the front, six in the back, at 9:15 and embarked on our journey to Kalundola, a village that is as rural as rural gets (don't bother googling it). After an hour of smooth tarmac and an hour of off-road jumping and jostling through the Zambian bush, we arrived to a celebration of arrival, similar to the one we received upon touching down in Zambezi. After dancing and singing with our gracious hosts, we began a lesson covering macronutrients, micronutrients, hydration, and appropriate portions, which Mama Josephine translated to Lunda. Once our lesson concluded, we learned from some residents of Kalundola about how they treat venomous snake bites! This includes application of a topical ointment made from local plants to heal the bitten area and prevent spread of venom and consumption of some sort of antivenom made from the culprit snake's blood and local ingredients. Super cool!!
Afterwards, we were treated to a delectable lunch of pumpkin, chicken, fish, rape (rapeseed), and nshima and then hung out with our hosts. English was limited but many polaroid pictures were taken and shared before we made our way down to the Kabompo River. Amidst the picture sharing, there was a gift exchange- we had brought mealie meal (for making nshima) and oil but to the surprise of the health team, we were presented with a live goat, an overflowing sack of maize, and a rooster! Before heading down to the river, we managed to stuff 16 people, pumpkins, maize, a rooster, and goat on board the good old land rover. After a slightly stuffy ride to the Kabompo, we were astonished at the untouched beauty of the crocodile-infested river. Unlike many "wildlife areas" in the states where powerlines can be spotted from afar and the muffled blustering of traffic can be heard from a distance, we were truly away from the pollution of an urban lifestyle (see above).
We began our trip back to the Zambezi convent we call home, with tummies full and spirits high, waving goodbye to the men, women, and children we had just met and created memories with for the past few hours. The bush road felt just as bumpy as the first time, but belting out "Bohemian Rhapsody" and "You Make My Dreams" with occasional embellishment from our new goat (g.o.a.t) friend (we couldn't decide whether to name him Cassius or Michael) made it a bit more bearable. We reached the paved road after only one wrong turn and were well on our way to Zambezi when the engine started sputtering and we pulled over to give ole reliable a little break. Without missing a beat, Bryce, Sitali, and the health team hopped out and started kicking around Preston's hacky sack (not in the middle of the road and definitely not next to grassy snake territory). Some passing military members were kind enough to stop and help us jump start ole reliable and continued to trail us in case of another automobile mishap. Good thing. Within thirty minutes spewing and sputtering began again and we had to make another stop and the hacky sack was once again broken out, this time with cookies (compliments to Rachel). The plot thickened when our rooster buddy broke free and took a poop in the back of the land rover. When nature calls, she really calls I guess. At least he was considerate enough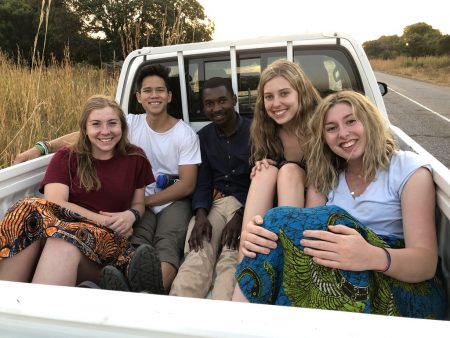 to face away from everyone still sitting in the back and drop his gift on the rover's back bumper. After getting back on the road not-so-old-reliable broke down one last time and we had to call Fr. Yona to come rescue us, 25km or so from home. All 13 of us managed to squish into Yona's Toyota Hilux and got home only a couple minutes after dinner. I know what you're thinking but don't worry, Cassius/MJ, the rooster, pumpkins, and maize were towed back by the military dudes (talk about a godsend, we really are indebted to them)- bag secured.
So that was yesterday, May 30, and under other circumstances I'd do a little reflecting and sign off. However, the health team, Emma Cheatham, Sammi Rustia, Fr. Baraza and I had a very unique and thought-provoking experience today visiting the local hospital here in Zambezi and I feel like not sharing our thoughts and experience would be remiss.
I don't think any of us had clear expectations of what the Zambezi District Hospital would be like, so after being able to tour the facilities and talk with the nurses, patients, and administrator, we left feeling a whirlwind of different emotions. Without going into excessive detail, we interacted and chatted with incredible nurses who operate under great odds to attempt the provision of proper patient care to the people in the Zambezi district. There are a whopping 2 hospitals in the district, home to 64,963 residents and both are only level 1 hospitals. One part that especially stood out to us were the pregnant women (some of whom are borderline children) and the minimal amount of space and outdated technology in their particular ward (not that it wasn't a widespread issue through the hospital but this really stood out). We witnessed the care for four premature babies (formerly five) who were being cared for in an incubator meant for one. They were triplets from one mother and one child of a twin pair from another mother. Each baby was separated by cloth and cardboard. Now I don't include this for the sake of trivial evoking of emotion or making this experience seem profound but because it was surprising to me and made me think deeper about what sort of change needs to happen and whether or not I have the ability and responsibility to create such change. Now obviously, immediate change such as providing better facilities and equipment should be any person's responsibility should he/she/they have the means but this goes deeper than being able to write a check or build a hospital. As an aspiring doctor, a student of Jesuit institutions, and someone with a goal to simply be better than I am now (and in every future "now"), this made me think about accompaniment. Sustainable change, regardless of where in the world you are, takes time and can't just be a top down, or even a bottom up sort of deal (and especially not one catalyzed by a Western savior figure). I believe it has to permeate through every bit of society and must occur naturally, with people bought in on the idea. This change can't be forced but takes a lot of time and can be worked towards with accompaniment, when liberations are bound together. I have only a limited idea of what role I can play in this grandiose scheme of human empowerment and world betterment but I'm certain being a responsible ally and/or partner is part of the equation. Call it generation Z naïveté or whatever, but Dale Carnegie said something pretty relevant and he's old so… "Most of the important things in the world have been accomplished by people who kept on trying when there seemed no hope at all." Anyway, coming back down to Earth, that hospital trip was really something and I'm sure I'll continue to digest it for a while. I hate to use the word struggle because what struggle is there really that we personally faced by witnessing a lack of appropriate access to/means of healthcare, but this was definitely a challenging experience for us all and left us with more thoughts on our minds than I can accurately or succinctly articulate.
Well, I better wrap up because it's pretty late, I need to shower, and some readers probably already stopped reading. The past 24 hours have been full of incredible experiences and these have only been my thoughts. I heard that while some of us were Kalundola bound, many deep and insightful conversations and moments were held back in Zambezi. As Janeen and Josh mentioned tonight during our reflection, I think we're all hitting the point of this trip where the initial nervous excitement has died down, people are really hitting personal reflection in stride, and the reality of what we're doing and why we're really here is finally setting in. Thanks for sitting through my word vomit and I can't wait to recount and unpack these experiences with many of you in person!
Peace and love,
Daniel Li
Gonzaga Class of 2019
A lil message from Ellie: Grace!!! Congrats on your graduation! I am incredibly proud of you and everything you accomplished in high school! Been thinking about you and the family all day today, sending lots of love your way! Can't wait to share all my experiences with you 🙂