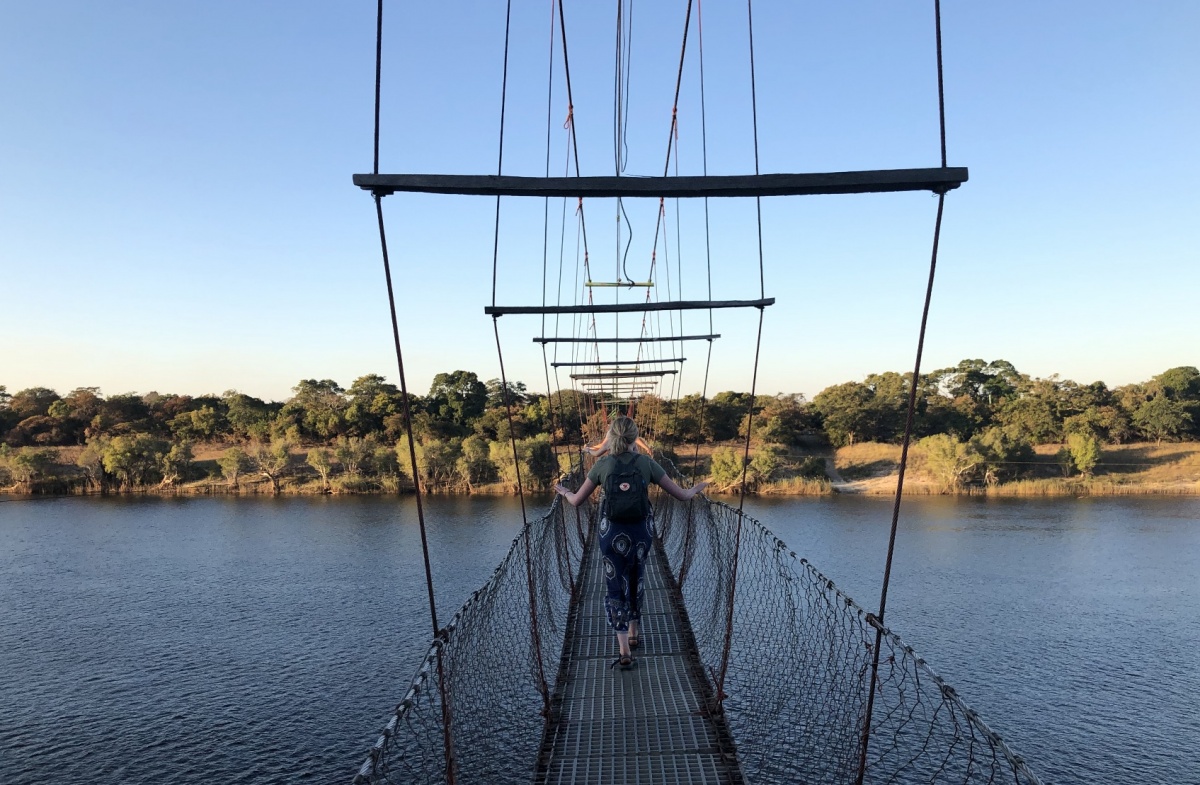 Hello sweet family, friends, and all those reading!
We are just over three weeks into our time in Zambia, many of us finally in a rhythm but still experiencing new surprises each day. We enjoy meals together, walk to the market for a donut and a Fanta in the afternoons, and view the most beautiful sunsets each evening. It is truly lovely here.
In the weeks leading up to leaving for Zambia, I could not contain my excitement. Zambezi was brought up at least once a day, I was constantly checking my packing list, ordering essentials like deet wipes and a sleep sack from Amazon, I was in preparation mode. Since I did some extensive research (thank you Josh, Devon Smith, and the internet) before creating a PowerPoint to convince my parents to allow me to go to Zambia, I had a pretty good idea of what to expect in Zambia. I mean, at least I thought I did. Per usual, I think I was so focused on the logistics of the ordeal, that I didn't really think about the fact that I would be in a very different environment soon and I may experience some discomfort.
Only about a week into being in Zambezi, did I start to feel comfortable in the environment I was in. Before that, each day was very different, though incredibly full of bonding time with my fellow zags over unforgettable experiences like seeing elephants in their natural habitat and jumping off bridges together. I had to get used to a new sense of the word "routine." Though our days in Zambezi began and ended relatively the same each day and night – breakfast and blog in the morning, reflection and the daily reassurance from my roommates Leila and Sammi that there are no spiders in my bed at night – there was no way to predict anything in between. At first, the natural planner and routine lover in me was a bit overwhelmed, but after realizing that with every day, new small surprises would come, I made the conscious decision to switch my mindset to "going with the flow" and accepting each new day as it was.
On the first flight over, 14 hours to Dubai, I experienced some expected nausea and motion sickness and Dramamine quickly became my new best friend. A source of comfort in the midst of discomfort. I used it on every single flight, several long car rides so far, and even though it made me quite loopy on the drive back from Mpidi the other day, it helped ease the uneasiness I felt in being bumped around in the back of a borrowed land cruiser. The long bumpy land cruiser rides have been a constant in the lives of the health team. In this, we have been able to see several different ways of life within just a couple hours of Zambezi.
Just yesterday, we had the chance to visit several different HIV+ patients at their homes, all of which were about a 20-30 minute drive away from our convent. Because people here are educated about HIV pretty much their whole lives, we did not come with the intent to give these people lessons about HIV and AIDS. We visited them in order to simply be with them and offer some support in the midst of their discomfort. Winifrieda, my homestay mother and a HIV outreach coordinator, wanted each of us to offer words of encouragement to each patient. We didn't actually know that we would be doing this type of outreach until about 10 minutes before leaving, but per the new "go with the flow" mindset, I was ready. Sitting with the first patient, a young girl who had lost her mother to HIV, but was already taking medication for her condition, I think all of the health team was pretty saddened to the point of discomfort. When we found out that this eleven year old girl had dreams of becoming a nurse one day, the reality of her situation became apparent to us – though something like hoping to become a nurse is attainable for each of us on the health team, attaining this goal may not be as simple for her. So, as we began to offer her support in our words, we got over the awkwardness of encouraging someone we had only just met and spoke of the bravery and strength we saw in her and the way that her story inspired us in the short time we had with her. As she was sitting there, next to her grandmother on a reed mat in front of their thatch home, the smile on her face and the graciousness of her grandmother showed that our words were a source of comfort in that moment.
Throughout the past couple weeks, we have also had the chance to visit various hospitals in the area. In touring these hospitals – the local Zambezi District Hospital, a missionary maternity clinic, and a high-functioning missionary hospital in Chitokiloki, we couldn't help but feel a bit of discomfort. Though the supplies of each hospital varied greatly, one thing we found common between each was the willingness of doctors and nurses to share details of patients' conditions. Coming from the U.S., we are used to strict patient privacy rules in hopes of respecting each individual's wishes with their personal information. We are so used to an individualistic approach to providing care and protecting patients, that the sharing was uncomfortable for some of us. After reflecting on these experiences, we realized that our very individualistic culture is different from the Zambezi culture centered around sharing, and this acted somewhat as a source of comfort. However, what we couldn't and can't quite find comfort in was the way some nurses were describing patients' conditions right in front of them, without regard to the patient themselves. So far at Gonzaga, we have been taught to place upmost value in the dignity of each person we interact with as future nurses – this is not to say that the nurses here don't value the dignity of their patients, it was just challenging to see that in the situation.
Finding comfort in the midst of discomfort can be challenging at times, but as my mom has encouraged me to do since I was very young, pushing ourselves outside of our comfort zones allows for growth and new perspectives. As many of us have found ourselves pushed outside our comfort zones in Zambezi, some small sources of comfort remain, including the warm smiles Mama Kitendi and Mama Violet always welcome us with, the close community we Zags have created with each other through laughter, riddles, and deep talks, watching the sun go down with a sky full of color, knowing our loved ones are seeing the same sun, and sharing ice creams at Eukaria's stand. We experience these comforts consistently, yet we still wrestle with discomforts like those found in the hospital or the fear of spiders in our beds. And that's good, it's why we're here! Throughout this all, we are learning to become comfortable being uncomfortable.
Thanks for reading 🙂
Kisu Mwane,
Ellie McElligott