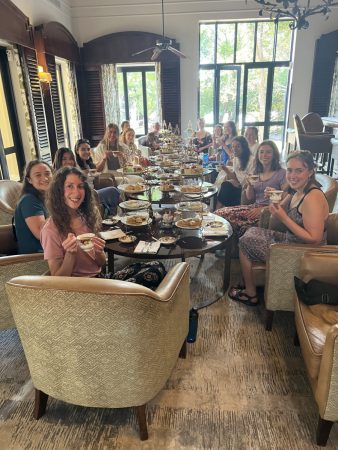 Hello everyone!
This is Clare Cibula reporting live from outside the Basil Cafe in the Fawlty Towers Lodge. The time is 7:37 pm, and I am sitting at a table with a few fellow zags (Hattie, Grace S., Kylie) eating our dinner that we snagged from a nearby Shoprite grocery store. Today was a full and exciting day. We are beginning to fall into a general breakfast and dinner routine. This morning, we received delicious scrambled eggs and porridge from the cafe. We then sat in a bright clearing of grass and shared a few reasons why we decided to come on this trip. Hearing the stories of how other students and our lovely professors came to be on this trip is a wonderful and inspiring experience. Today, we were blessed with Genesis and Dee's stories, and I'm lucky to say that I learned more about their lives and goals. I also was able to share one of the reasons I decided to apply to come on this trip, and honestly it felt relieving to finally put effort into articulating both a fear and a purpose of mine. In the excerpt we read from Aaron Ausland's "Staying For Tea," an important part of being present with others is listening and opening your mind to understanding others. In a situation like this, it is important to do this both inside and outside the group we travel with, and I'm thankful that I got this opportunity along with my two buds, and am excited to hear more.
After our morning routine, we had a little break before heading to the Livingstone National Museum. To fill the time, Grace S. and I attempted washing our clothes in the hostel sinks for the first time. The louder you grunt, the easier the water comes out of the clothes when you squeeze them. When we arrived at the museum, we met Mwewa Mwaba, our museum guide. We learned so much about the history of Zambia, including traditions, village life, the transition to city culture, and how colonialism has affected the country. We also learned about the wildlife of Zambia, displayed with some very interesting and graphic taxidermied animals. The museum curiously smelled like my Papa Al and Grandma Glenda's house. I have no further comment on that point but I felt it necessary to include for background. When discussing the wildlife, Mwewa emphasized their efforts to protect all parts of the environment. She explained how if you kill one animal, the rest of the ecosystem suffers, listing vultures as an example. Just because we don't like something doesn't mean it has to die. This reminded me way back to day 2 when Father Dominic told us that the dead snake in the road was "brother snake" and he was actually our friend. Mwewa and Father D, for you guys I will not smush Sister spider as long as she doesn't climb into my bed. The tour itself was very long, but extremely informative. I maintained a healthy half squat position to avoid my signature knee lock.
After the tour, we perused the gift shop in the museum. Unfortunately, at this point many of us realized that we had been slightly pranked at the Victoria Falls markets, and the people selling us souvenirs there likely did not in fact hand-make their items, nor were they "the only of its kind." We can still pretend.
Next, we went to high tea at the Royal Livingstone. This was an extremely fancy experience, for which none of us had the clothes. We showed up, fanny packs and chacos/crocs/tevas/birks a blazin'. We were told if we were lucky, we may see some giraffes meandering about the lodge. We drank delicious tea and tried a variety of small treats. I still think my Grammy makes a meaner cucumber sammie. We then grabbed some drinks and wandered the property. Bella, Grace S., Kylie and I set off in the search of giraffes, and found horses instead. Kinda close? As we were walking back, an employee named Nmoya rolled up alongside us in a golf cart and told us to hop in. We let him know what we were searching for and he immediately revved that little golf cart engine to the max. We went around the entire lodge grounds, asking people and keeping our eyes peeled but no sign. Nmoya dropped us back at the main building. The golf cart experience itself was so much fun, and we let Nmoya know this so many times, but he was still dedicated to our mission. We walked back to the bar and we were just about to go to the bathroom when Nmoya came running in from a different door, telling us to follow him. We all put our heads down and took off. Silently we hopped back in the cart and he zoomed us to the giraffe. What a cool experience, and what lucky gals we were to have happened upon Nmoya and his cart. This experience also may serve as a reminder of the willingness of local people to bend over backwards to help us simply because of the way we present and exist here. The feeling of both discomfort with the fact that Nmoya was probably only catering to us because we were paying guests, alongside the gratitude and excitement of seeing something new, is confusing and I am still trying to navigate how to deal with moments like these.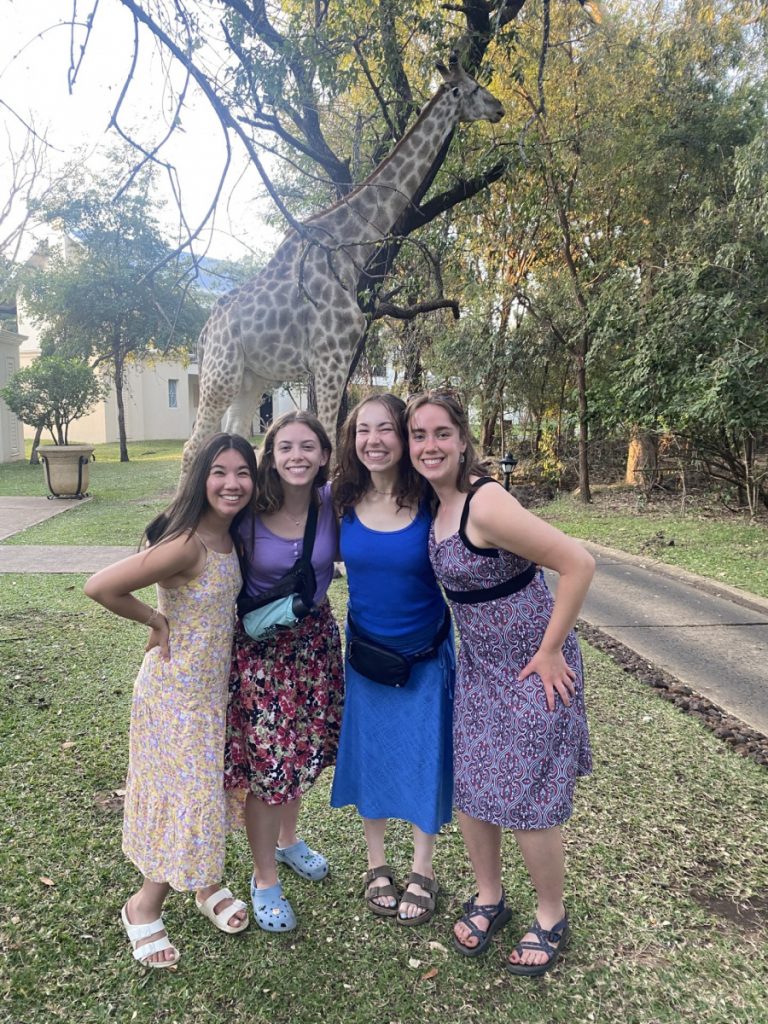 After watching the sunset at the lodge we headed back to our hostel for dinner, which brings me back to the present. We just had a very fruitful conversation about what we experienced today. We learned a lot about how colonialism has affected Zambia and how this persists today. This was what the majority of our conversation revolved around tonight, whether we are responsible as Americans, as a predominantly white group, and as people. I really, truly am grateful for every person in this group and their willingness to converse openly about these things and see other viewpoints. I think while we didn't even reach the tip of the iceberg in this conversation, we made important strides individually and as a group that may help to prepare us for Zambezi. I am incredibly lucky to be on this trip.
I'm sure everyone at home is wondering how their loved ones are doing. Rest assured, they are quickly becoming a part of my family as well. Hope that doesn't make you too jealous. Hattie is still cracking infrequent but hilariously blunt jokes. Genesis is staying 100% true to herself and rocking some epic new jewelry. Dee has promised to continue to lead us in Zumba classes (maybe we call it Zumbia)? Grace S. is a ray of sunshine and brings effortless happiness to the group. Maddie actually pretended to be interested in the dead spider that I made her look at on the museum tour, and that takes some serious grace. Megan has beautiful style and a very calming presence that has not gone unnoticed. Bella is still Bella'ing, LAG! Sierra consistently impresses me with the things she notices and thoughtful things she says in discussion. Kendall has begun calling me Klaere (I tried to write it as best as she pronounces it), which oddly reminds me of home. Lauren's exuberant dance moves have the power to turn a storm cloud into a rainbow. Grace E is still looking for a memento to put in the group journal. I also envy her thoughtfulness. Kylie and her Taylor Swift knowledge have been a whole different learning experience, one that I never expected when coming to Africa. Kris's smile and wink never fail to make me feel safe and seen. And finally, Jeff brings me back down to earth every time I speak with his sarcastic comebacks. Thanks, Jeff.
To all my loved ones, I miss you! Sending love from Livingstone.
Best,
Clare Cibula, '24
P.s., We're heading to Botswana for our overnight safari in the morning, so don't worry about us if you don't see a post tomorrow. Look forward to Dee Leyba's post Saturday night!