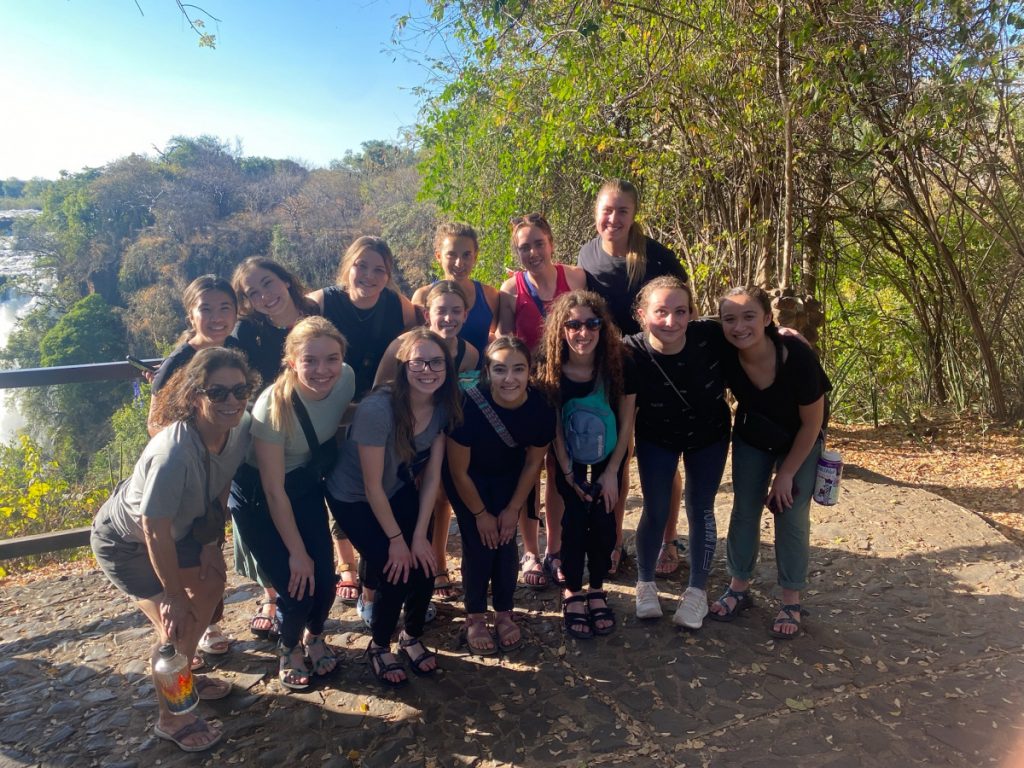 At 5:20am my Nintendo Wii (Hip Hop vine remix) alarm goes off. GOODMORNING for us here in Lusaka! Room 17 slowly starts waking up, climbing down their bunks and getting ready for the day ahead of us. Our bus to Livingstone leaves at 6:00am (hypothetically) so we all start to put a little hustle in our bustle. 
Before we leave, peanut butter and jelly sandwiches are made and coffee is slurped down. The breakfast of champions. 
We all put our larger bags at the back of the bus and went around the side to get a seat. Courtesy, a friend we met at the beginning of the trip will be our driver and his best friend Andrew joined us on our journey as well.
Something I have noticed from our short time here so far is how important introductions are. Andrew was introduced so well by Courtesy, ensuring that he felt welcomed and comfortable with us on this journey. The introduction was so well that Grace Ehler barely made it on the bus as she was stuck outside while they were blocking the doorway.
Soon enough we are off on our 8 hour journey to Victoria Falls! Sights included a cement factory, a zoo with Ostriches and Zebras, and many small vendors along the roadside. 
The only stops we made along the way were for toll booths, police stops, and a single bathroom break. K3 per pee and it couldn't have been more worth it. The plan was to break for a restroom every 2 hours, but us women understood the assignment. We wanted to get to Victoria Falls ASAP so we drank minimal water before and after the bus ride. Dee also led us in a dance during our bathroom break. Thank you for getting us moving Dee!
As we were riding on the bus, people started shoving sugar cane stalks onto our bus. It was simply crazy! We got enough stalks for everyone to have. We were peeling the stalks and chewing on the sweet sugar cane. Dee and I were chewing it but it took forever to eat all the way. We ended up putting some in trash that we just simply couldn't chew any longer.
Bella soon came in clutch when she pulled out her JBL and started queuing up absolute jamssss! The set list was complete with Rihanna, Taylor Swift, Sean Kingston, and more! We started singing along and it kept the mood lively. 
After around 8ish hours we made it to Livingstone! We checked into our hostel at Fawlty Towers and split our group into a group of 6 and 8 zags. We all quickly changed to "get absolutely soaked" as Jeff warned us. We got back on the bus and headed to Victoria Falls!
Before we entered the gates to the falls, we saw a baboon!!! It looked huge from the bus.
We left the bus and started walking around the falls. Jeff joined us for the first part and we looked at Victoria Falls from afar. The beauty of the falls can't be captured in pictures, but we attempted as Clare set up a 10 second timer photo of us all.
The second part of the falls Jeff collected all of the items that we wanted to stay dry and sent us all with Kris to get "soaked" by the falls. Ok sureeee Jeff, the only thing he needed to worry about was getting robbed by the baboons because apparently they like to take shiny and loose things. Jeff was surrounded by shiny and loose things.
Jeff was right, per usual. We got SOAKED. A natural shower if you will. Grace Ehler brought her phone to take pictures while the rest of us left ours behind to be bait for Baboons to attack Jeff. Rainbows, Bridges, Waterfalls, oh my! The sights were UNREAL. Grace was able to capture some beautiful photos and we are so thankful she brought her phone with us, although it definitely did get a little wet.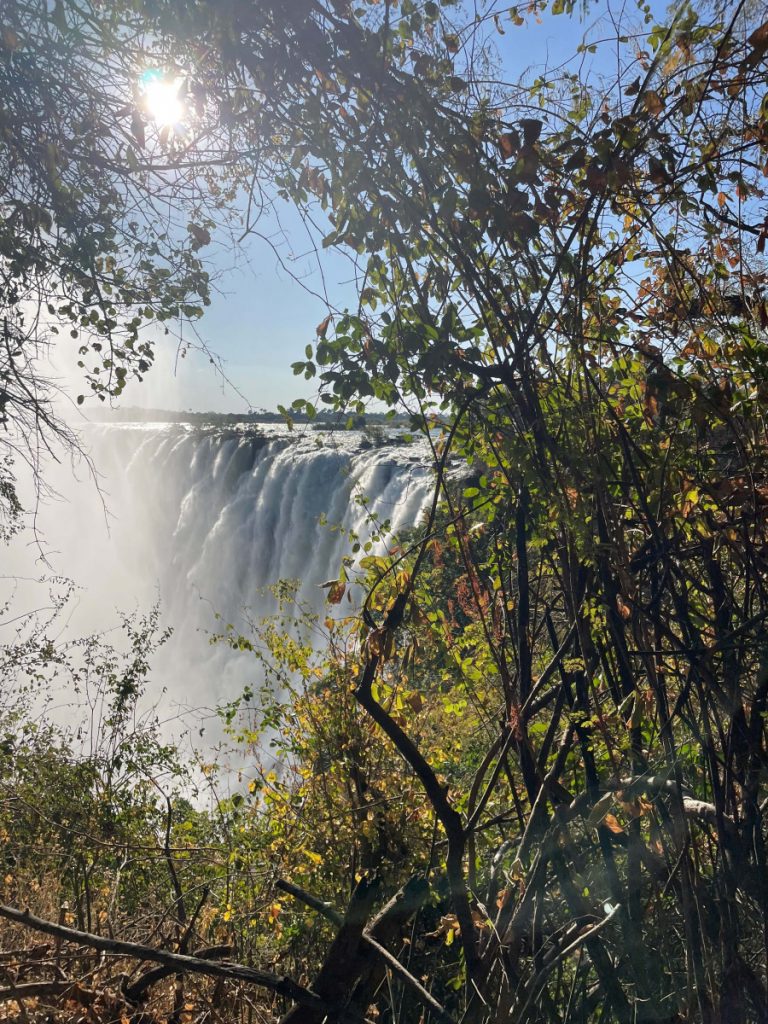 As we made our way back up, I for one was relieved to see that Jeff appeared to be healthy and had all of our stuff with him. No bamboo attacks today!!!
After Victoria Falls, we stayed around the area and checked out the small curio vendors that were selling stuff. They were very passionate in wanting us to purchase their goods. Some of us stayed strong and some of us gave in.
On the bus ride back we all sat in our drenched clothing dreaming of the Italian restaurant that Jeff had made reservations at for 6:30. We walked over at around 6:15 and started scanning the menu. We all ordered our food and in classic Zambian fashion, it came out about 2/2.5 hours later. We all enjoyed the meal and the company that came along with it.
After dinner we went outside to order some gelato! There was a man at the gelato shop who we met that couldn't figure out what he wanted to order. Therefore, Jeff ordered him a huge bowl with one of every flavor. We had a fun conversation with him and learned it was his birthday tomorrow!! We all wished him happy birthday and sent him off in his cab.
We then took our turn and ordered some gelato! So yum!! Time to hit the hay.
(hello to all of my friends at home I love and miss you all <3)
Grace Sikes, '26
P.S. from Jeff to ZamZags 22: Caret three, y'all.