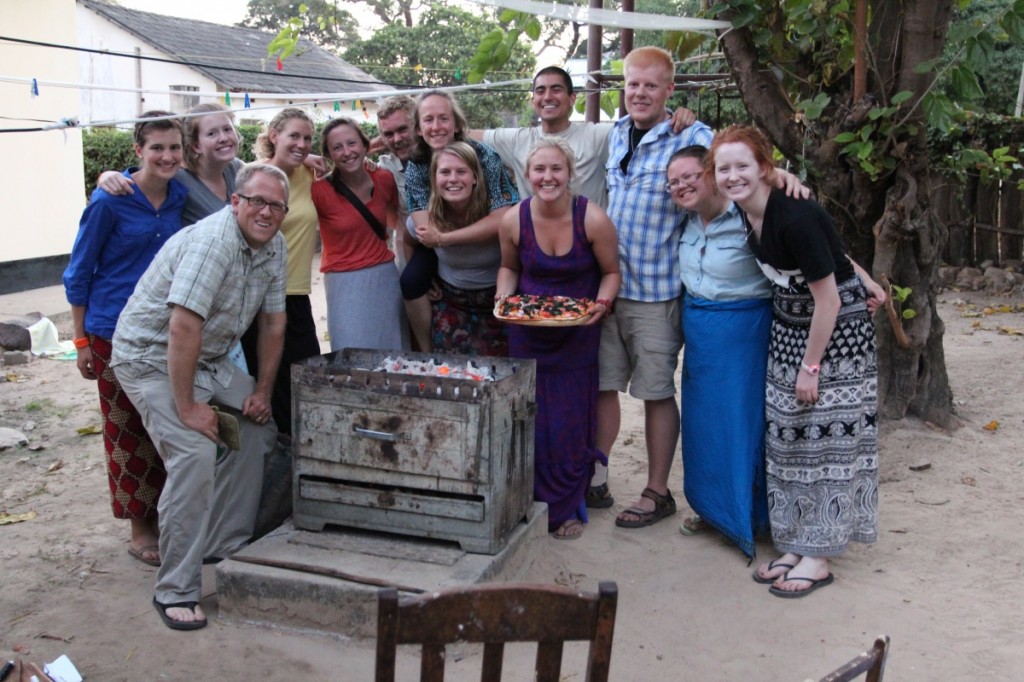 Hello family and Gonzaga-in-Zambezi followers,
We have all arrived safely in Livingstone and have turned the page on our Zambezi chapter of this Zambian novel.  After three incredible growth-filled weeks with the Zambezi community, it was difficult to say goodbye to friendships, new and old.  We have worked hard each day to provide health lessons, leadership courses, computer classes, and a school literacy program with our partners.  During our final week in Zambezi, I heard from many Zambians, in the church and throughout the community, about how much they appreciated the opportunity to learn with our Gonzaga students.  As Sandu, a man who biked three hours from his home to attend leadership lessons, said to our students at the completion of their course, "we give special thanks to you: we believe knowledge is the weapon to success in life".
Parents, you should be very proud of your son or daughter in this program.  They have been a thoughtful group, entering into the struggles this program offers with grace and intentionality.  They have asked each other the difficult questions, danced until it hurts, laughed with deep joy, and supported each other through tears.  The relationships they have formed will be remembered in Zambezi, and they live like a family, a Zam Fam.  I could not ask for any more.
When spending time in Zambezi, I often think of Mother Teresa's words, "we can do no great things –only small things, with great love."  While students have wrestled with questions about their impact on the Zambezi community, I take comfort in the "small things done with great love" that Gonzaga has worked alongside with the Zambezi community over the past seven years. As you probably figured out by now, we did not eradicate poverty in the Zambezi district, or feed each hungry family we encountered.  Besides a school library we are building in partnership with the Chilena Basic School and a house the church rents out, Gonzaga has not left "tangible" buildings (great things) in this community.   However, I am proud of the work that was accomplished this year by your Gonzaga student, and you would be hard pressed to find a Zambian who has encountered this group who would not greet you, then offer a kind example of their relationship with Gonzaga.
I have been thinking a lot about the access to information and education that those of us in the U.S. have been privileged to experience.  If we have a question about the world, many of us can reach into our pockets, pull out our smart phones and search for the answer.  If we are feeling really clever (or lazy) we can even ask Siri to search for us: "Siri, what is the capital of Nebraska?"  If we want to develop a new skill or seek new knowledge, we can enroll in a university course, research at a local library, or seek professional development.  However, for many Zambians, particularly those in the Zambezi district, the opportunity to learn is unattainable because of the lack of educational opportunities.  Many intelligent, motivated Zambians are hungry for the opportunity to learn, and have come to look forward to the courses that Gonzaga students provide.  Often, these three-week courses have been the spark to start new businesses (Henrix's brick company, Chansa's shop, Julius' citrus farm, Mary's tailoring) or community development (Julius' community school, Mama Love's NGO).  We empower these inspiring Zambians to take the next step to make their community better, to stand on their own two feet. These small things, done with great love can make a difference. Sure, it's an imperfect relationship at times, but it is a relationship.  As Aaron Ausland reminds us, "friendship, real and deep, in the foundation of giving that empowers."
I wanted to conclude by introducing you to a couple of our close friends in Zambezi, relationships that inspire the Gonzaga community.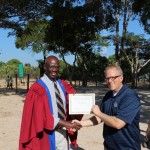 John Mwewa is the retired headmaster of Chilena Basic School.  If you buy some Zambia Gold honey, you are supporting Chilena's education and the library they are constructing.  John was instrumental in forming this partnership with Gonzaga University.  John and his wife, Winfrieda, have hosted Gonzaga students in homestays and as a member of the Catholic Church council, John is one of the first people to welcome our students.  While John has participated in the leadership and sustainability course in past years, I was inspired to see this 60-something man enroll for the advanced computer lessons course this year.  John shared with me that he felt a little awkward about being about 35 years older than many students.  However, he said that he was curious about computers and couldn't pass up the opportunity to learn.  Our computer teachers (Shaun, Conner & Nate) said he was a fantastic and joyful student, and I loved when he showed up to our "graduation" from the course wearing his academic gown.
You have surely heard about the hardest working Zambian woman I know, Mama Kawatu.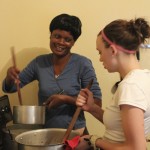 As our cultural guide, cook and Lunda instructor, I would challenge anyone to walk in the shoes of Mama for a day and not be inspired and humbled.  She becomes our "African mama" for the program providing nourishment, love, and wisdom to twenty students and faculty while caring for her own seven children, running a knitting business, and serving on church committees.  Through her work with Gonzaga, Mama Kawatu has assisted her husband in building a home, (with new metal roof coming this week), a knitting room, and provided running water to her home.  She remembers and asks about students from the past seven years of our program, and considers herself a Zag.  Mama Kawatu has provided a tangible example for us all about what it means to be a servant leader.
So, tomorrow will bring Victoria Falls and exploring Livingstone.  On Friday, we start off for Botswana and our safari.  I'm not sure we will have time to blog, but we will check in before leaving for Lusaka.
My sincere thanks to all parents and families for supporting your children's dreams and curiosities about the world.  I read an interesting quote today that I believe speaks to the power of our travel experience and the growth each of us are experiencing and will be processing in the weeks and months ahead.
"for if every true love affair can feel like a journey to a foreign country, where you can't quite speak the language, and you don't know where you are going, and you're pulled ever deeper into the inviting darkness, every trip to a foreign country can be a love affair, where you're left puzzling over who you are and whom you've fallen in love with….All good trips are, like love, about being carried out of yourself and deposited into the midst of terror and wonder." – Pico Iyer
"Dr. Joshua" Armstrong, Gonzaga University
Comprehensive Leadership Program (CLP)