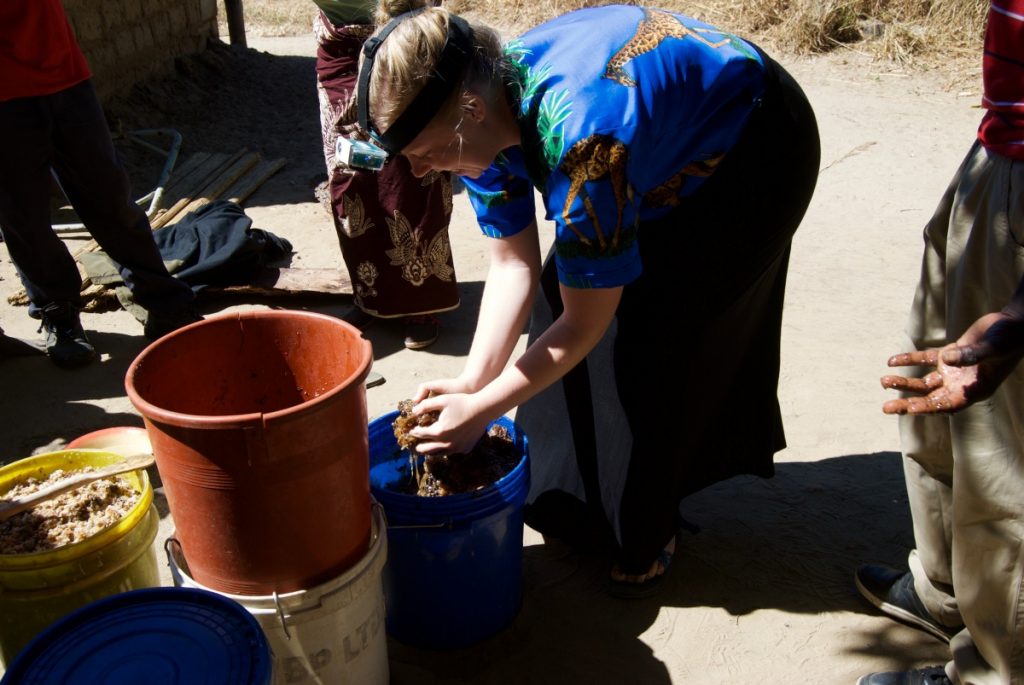 I plunged my hands into the 25-liter bucket of cold, sticky oochi mixed with honeycomb and scooped as much as I could into the filtration system (another 25-liter bucket with a corrugated base resting on top of a larger empty bucket.) With Jeff's GoPro camera strapped to my head, I was ready for the action of filtering and purifying some fresh oochi-(Luvale for honey). The oochi was smooth and dripped off of my hands with each motion. A Zambian beekeeper, my guide in this process, was meticulously following my movements in case I dropped any of the honeycomb mixture, which I did… quite often. After several tries, I decided that maybe this very involved demonstration would be better left to the professionals. So instead I reached my hand back into the bucket and grabbed a clump of oochi and honeycomb and put it right in my mouth. I chewed the glob in delight and spit out the remaining wax as the sweet taste of oochi lingered on my taste buds.
Jeff and the Zambia Gold interns- Katie P, Katie B, and myself- had set out for Lwitadi, a small village just east of Zambezi, for an afternoon of visiting and interviewing beekeepers and also touring some of their beehives. We pulled over on the side of the paved road and parked the car only to walk a few feet and step through a sea of tall grass acting as a wall between the road and the beekeeper's home.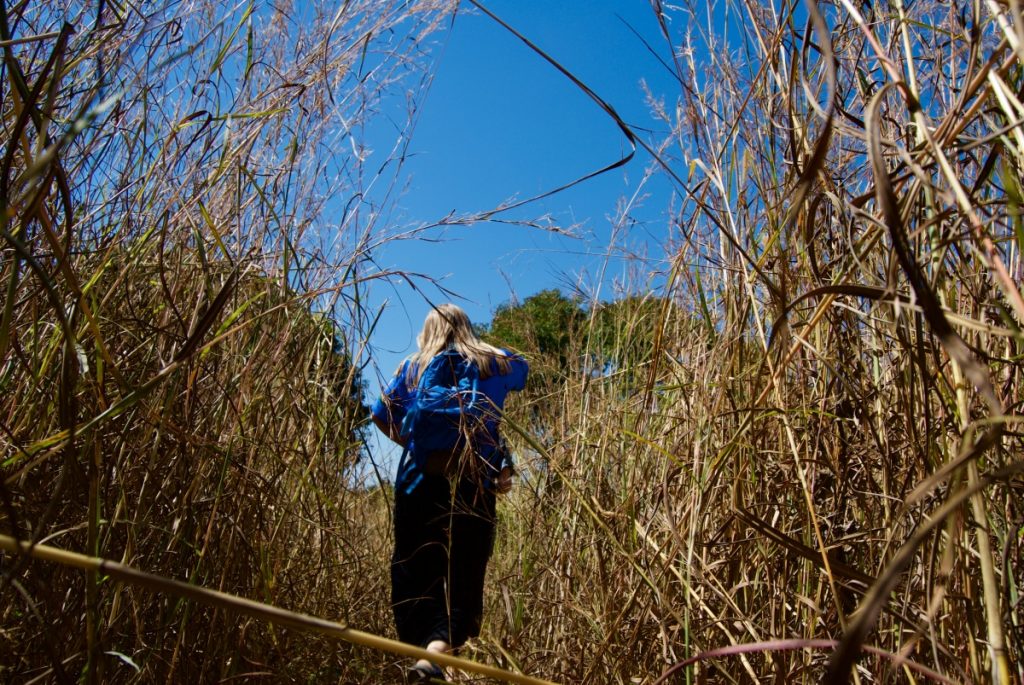 The beekeepers (as we had collected more than a few, filling the entire land rover at one point) explained that the purification process normally takes a few hours. As more and more harvested honeycomb is piled into the corrugated bucket, gravity begins to do its job and the fresh honey seeps out of the holes at the base and flows into the new container, leaving solid chunks of wax and bee parts behind.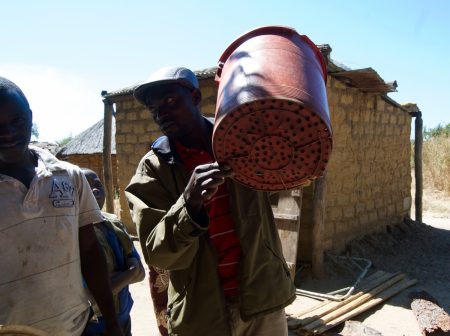 Deeper out in the bush, our group was able to witness a few beekeepers in action. The beekeeper suited up in his harvesting attire: two pairs of pants, one on top of the other, one thick button down, and a mask made of patches of burlap sack sewed together with a mosquito net webbing. I watched from the ground as the brave man scaled the tree with ease and tied a rope around a branch using a pulley system for the bucket he would use to collect the fresh honeycomb. It truly was a balancing act as the beekeeper stood on a thin branch while reaching into the log hive to scrape the honeycomb into the bucket.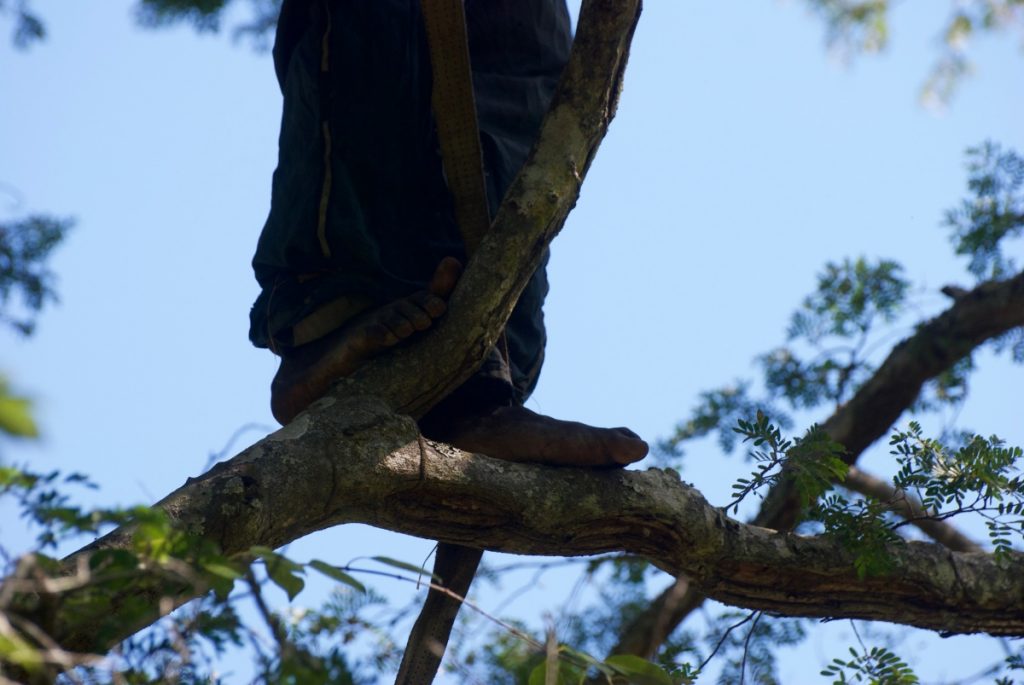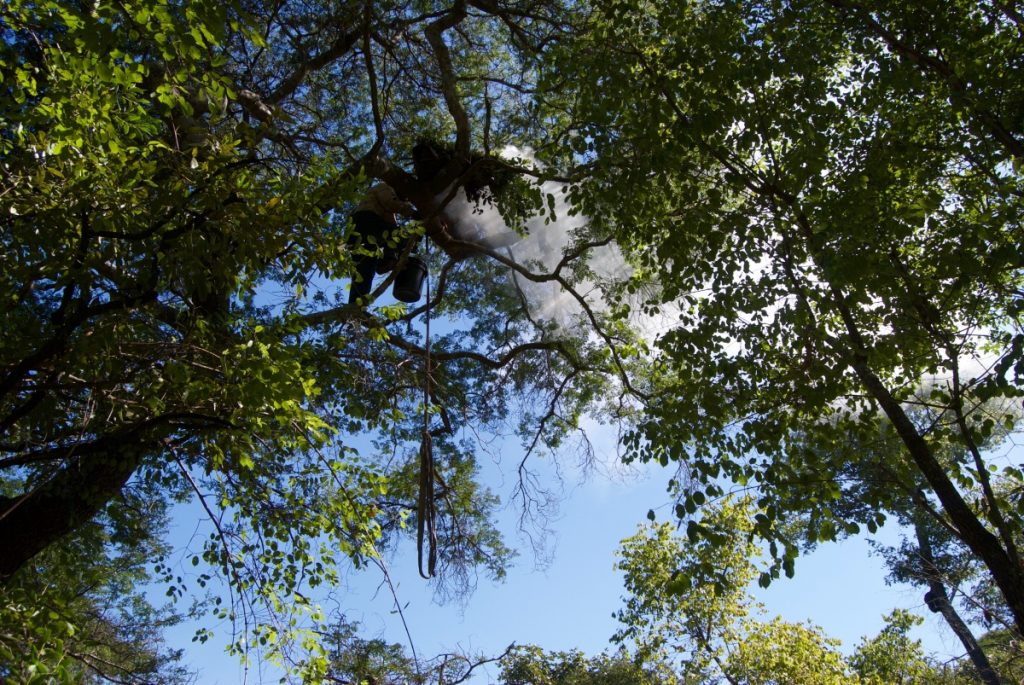 Safely on the ground, Newton, another one of the beekeepers, began to pluck bees out of the honeycomb so he could have a taste of the new harvest. "These ones are strong and sharp" he said as he flicked one off his finger. A beekeeper's job is usually carried out later at night when the bees are less active but these men graciously agreed to share their harvesting experience with us during the mid-afternoon, when the bees were less than happy to see us.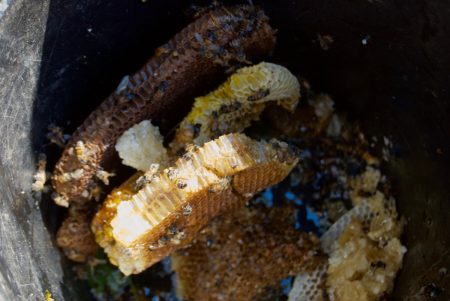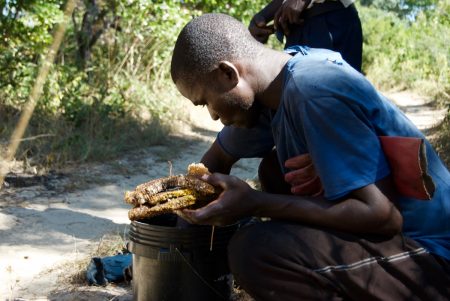 I have always felt a special connection with bees and honey, but my relationship didn't start out so sweet. Ever since my sophomore year of high school when a swarm of 2,000 bees decided to land on the front hood of my car and start a new hive, I have wondered a couple things- Why did the bees land on my car conveniently during the lunch period for the whole student body to see? And the ultimate question: Out of all the 200 cars in this parking lot, why did all these bees land on MY car?
My mom used to tell me that the bees were looking for a sweet girl and that is why they landed on my car, but I had a hard time thinking positively about the flight patterns of bees when they were messing up my daily routine. During school, four months after I had gotten my license, a security guard called me out of class to inform me that all the bees in Colorado had swarmed my car. It could be seen from the building. My least favorite part of this whole extravaganza was the fact that after a beekeeper had finally come and loaded all of the bees into a box, he offered us a sample of his freshest honey from his bee farm back home. I tried the honey a few times and was not very pleased. For the most part, the honey sat on a shelf in my pantry as a reminder of one of the strangest phenomena in nature to ever occur in my lifetime.
My relationship with bees is much sweeter now. I am a part of an intern team for Zambia Gold- a student run organization on Gonzaga's campus that supports education and economic development projects in the Zambezi community through the sale of honey harvested in and around Zambezi. Each Monday night throughout this past semester our interns would take shifts at a booth in front of our dining hall and promote the mission of Zambia Gold and encourage friends and fellow Zags to support us by purchasing a pouch of our Zambia Gold honey. All of this time I never thought twice about the time it took to produce a single pouch and all of the hands involved in the process. A hive of bees flies about 55,000 miles to produce a pound of honey. That's more than five times the distance from here to Spokane. And the average worker bee makes only a twelfth of a teaspoon of honey in its lifetime. That means (if I've done the math correctly) that over 93,600 bees contributed to making the 1,300 ounces of honey we sold just last semester.
Our weeks in Zambezi have come to a close and tomorrow is the day that we set out for Livingstone for the last week of our adventure. My mind is fully packed with the experiences that we have had in the Zambezi community and my heart is overflowing with love and gratitude for this place and these people, both Zags and Zambians.
Like a big bucket of harvested honeycomb, there is a lot to sort through. Final celebrations and hard goodbyes have filled our past few days and there has not been much time to let the great experiences seep out into the forefront of our memory. But just as the purification process for a bucket of oochi takes some time, so will sorting through the mixed emotions that come with leaving the place we have called home for the past few weeks. My looming fear is that I won't be able to keep up with the balancing act of being present this week in Livingstone while also desperately trying to cling on to the memories I have made back in Zambezi. The beekeeper's steady feet on the high branches of the tree he climbed to get to his beehive give me hope: it may be risky to have my heart pulled in so many different directions but I know that, by being present and relying on my community, I will be able to stay balanced.
Come tomorrow, I will take a big bite of a gooey honeycomb glob in Livingstone and start to load all of my emotions in the filter bucket and wait. With the support and encouragement of my fellow Zags, I look forward to reflecting on my experiences and piling on memories as the insights slowly drip out like some sweet, sticky oochi.
Kisu Mwane,
Elly Zykan
Class of 2018
PS:
Taylor (our fellow Oochi mama) we are thinking about you often. Oh what I would give to see your face when you taste this stuff. (Hopefully it's better than Katie's when she was surrounded by bees) It's really good, I promise. Even without the stale pretzels.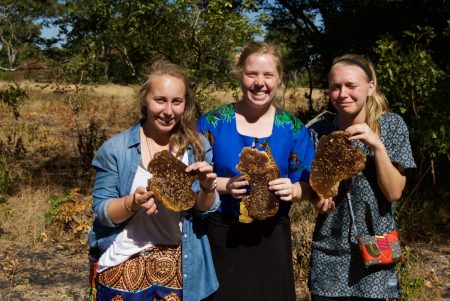 PPS (from Katie P.): Mom, I used the new lens to take the tree photos safely from the ground. It was GORGE-ous. Elly and I are laughing so hard right now. Love you.
PPPS: Elly's mom, Elly and I (still Katie P.) have been awake for over an hour adding photos and doing all that bee math. She says, "I've never felt so alive." She loves you.