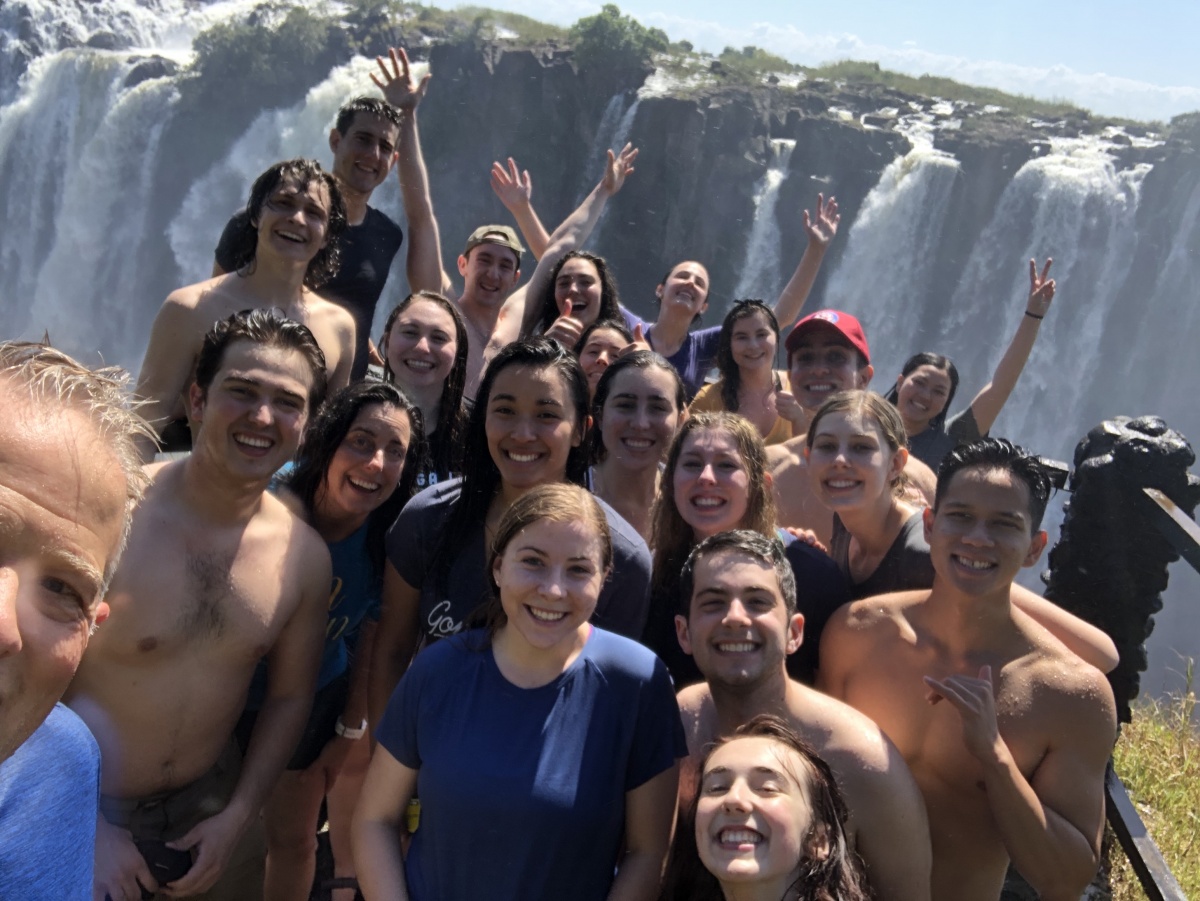 "It hurts worse to be taken advantage of by someone you love, and by that I mean Emirates Airlines." -Bryce Kryser
Our beloved airline is the speculated cause of the less than beloved illness that spread through our group once we landed in Lusaka. A few of us even gained throw up stories of glory–out of a bus, into a sink, not a toilet was spared. It seemed as if the only thing that could protect you was the sheer joy of graduating as our two seniors, Ethan and Daniel, escaped unscathed. Or possibly if you were Ellie and had an Irish connection with a flight attendant (yeah we're suspicious). This is a less than unique travel experience, and I'd also like to say for the parents reading that only like six of us actually vomited, mostly people just felt off and queasy.
I write this blog sitting in the sun next to our hostel pool. Isaac, Preston, and Bryce are playing freebee in the grass. Sami and Catelyn are talking with their feet in the water. Chloe is napping next to me while Lelia, Avery, Emma, and Megan read their books. I also hear in the distance what's beginning to become the familiar sound of Father Barraza telling a story. We've started to fall into a group rhythm, or using my professional leadership lingo—forming. After some long days of travel, it feel nice to settle for a while. Staying in Livingstone is allowing us to not only dive into our relationships with each other but start our relationship with Zambia and some Zambians.
We started grand and viewed the famous Victoria Falls. Picture after picture was snapped of the thunderous 3 kilometers of free falling water rushing out of the Zambezi River. As we took photos together, it felt obvious how tightly people wanted to hold onto the memories they were making. Many smiley selfies made it out the spray, and I'm sure we'll look back on them fondly. I hope you enjoy the one I included at the top of my post, for sure a crowd favorite.
As we're only a couple days into our time in Zambia I find myself having learned some small lessons. Mostly though, we're looking forward to Zambezi. How will our classes go? Who will be our host family? Will the views from the bush planes be as cool as Ethan has described? While waiting we're definitely enjoying our time here. The first sights of giraffes, zebras, and hippos has brought an excited smile to all of our faces. Tomorrow we head out to a two day safari, so expect a day off from the blog but some literary heat to come your way soon.
I want to leave you with our first tension that arose from the group today, and that I'm guessing will continue with us. How do we hold both names that exist for the falls we saw today? Look at the seven natural wonders of the world and the Victoria Falls are listed. Ask Father Barraza and he'd tell you their real name is Mosi-oa-Tunya, "The Smoke that Thunders." This is what a google search won't tell you. This is what we can easily turn away from and not lean into. This is balancing how we see colonialism having shaped Zambia and how we interact or understand Zambian spaces.
This is a tension we are not able to fully articulate. As we continue our time together I hope we can treat these goals of complete understanding more like the fabled Ithacas they are than the facade of a landing that can exist. As we all know, our journey will be what shapes us the most.
"As you set out for Ithaca hope your road is a long one, full of adventure, full of discovery.
…
Keep Ithaca always in your mind. Arriving there is what you're destined for. But don't hurry the journey at all. Better if it lasts for years, so you're old by the time you reach the island, wealthy with all you've gained on the way, not expecting Ithaca to make you rich.
Ithaca gave you the marvelous journey. Without her you wouldn't have set out. She has nothing left to give you now.
And if you find her poor, Ithaca won't have fooled you. Wise as you will have become, so full of experience, you'll have understood by then what these Ithacas mean."
-C. P. Cavafy
Rachel Haas, Class of 2021
Also, hi family!!! I love and miss you! I'll be writing one more time, so wait about 21 more days and you'll hear from me again. A piece of my heart is with you always.