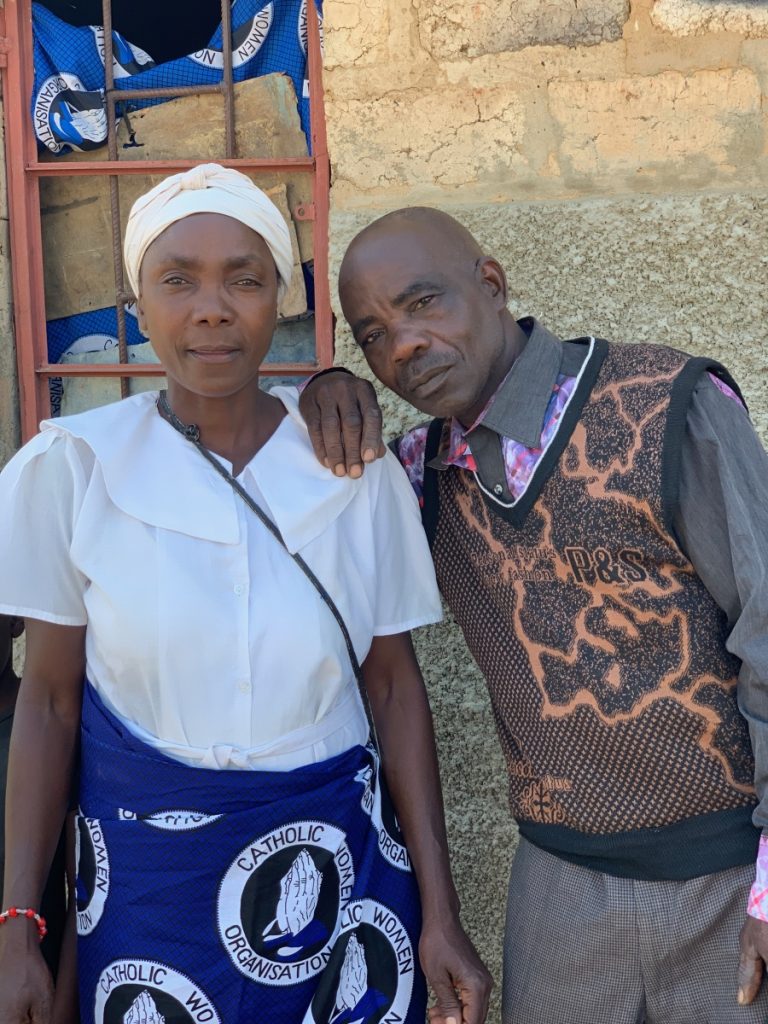 The past five days in Zambezi have been filled with the most incredible individuals and the warmest of welcomes. There is no way that I could have expected or prepared for the experiences that were about to follow stepping off the bush planes in Zambezi. I am learning very quickly that the people here in Zambezi are very good at making people feel comfortable and at home, even though many of us are three long plane rides away from the place we call home. They do this through large displays of how excited they are to have us here or by simply sharing and explaining small pieces of their personal stories, cultures and traditions with us.
As the bush plane started the descent into Zambezi I was filled with nerves about what was waiting for me and my fellow Zags but also excitement for the new culture and experiences that I was about to encounter. But as soon as we got close to the dusty airstrip in Zambezi my nerves quickly went away as I saw the large groups of children and adults of the Zambezi community waiting for us. As soon as we stepped off the plane tons of tiny little hands reached for mine and put the biggest smile on my face. After repeating my name to each child that came up to me we were brought over to watch the Chilena School Choir sing and dance for us. Needless to say, after this my peers and I were on a high and ecstatic to finally be in Zambezi.
The next day we all left for our homestays and Regan and I got the opportunity to stay at the home of Mama Violet (one of the women that cooks for us in the convent) and her husband Steven. Before leaving for our homestay Josh told Regan and I that staying at Mama Violet's would be a "true bush experience". Regan and I immediately agreed and said that we would love to stay with her and were up for a challenge. Part of this even included carrying a mat on my head the whole 30-minute walk to her house, which received a lot of funny looks when we walked through the market. We arrived to see a small home with tin over the windows. There was no electricity or running water and a bathroom that was a basic hole in the ground with a 5-foot-tall thatch fence around it. As soon as Regan and arrived, we were a bit uncomfortable as we were instructed to sit down on a mat and then were immediately surrounded by at least 25 kids staring at us with curious eyes. Both of us tried talking and interacting with them but quickly realized that they did not speak any English. Once we asked them to teach us a song they immediately got super excited. They jumped up and started to sing and dance with us to "Chitomato" and "Do as I Do" (both involve LOTS of poses), which are songs that they all sing and dance to regularly. Regan and I soon realized that our dancing skills were no match for theirs but the laughs that it brought to their face were so worth it. We were both so excited to be welcomed into their culture and have them show us some of their traditions that our discomfort was quickly replaced by a love for this place and these people.
Later that night we met Mama Violet's husband, Steven. Right after meeting Regan and I he immediately followed with, "This is your home! Feel at home!" I cannot even begin to tally how many times he told us this throughout our homestay in order to ensure that we knew how welcome we were in their home. What truly displayed Steven's love for the Gonzaga in Zambezi program was when he brought out his envelope with pictures of all the past Gonzaga students that have stayed in their home the past 10 years. This made us feel even more comfortable and relaxed in a place that was so foreign and new to us. Steven and Violet shared with us their family's traditions such as telling stories by the fire after dinner every night. Even with such a large language barrier and difference in culture they made us feel secure and right at home.
The next morning, we awoke early to the sound of roosters crowing, pigs snorting and goats eating. We ate a tasty breakfast of ground nuts and sweet potatoes, took tons of pictures of us and their family, and then went to church with Mama Violet and Steven. Gonzaga has a long-standing relationship with the Catholic Church here and that was quite apparent during the service. The people of Zambezi welcomed us into their church with open arms, many songs and many dances. During mass each Gonzaga student was brought up to the stage to share their name with the community and then we were all invited to a barbeque dinner at the priest's house to welcome us into their community.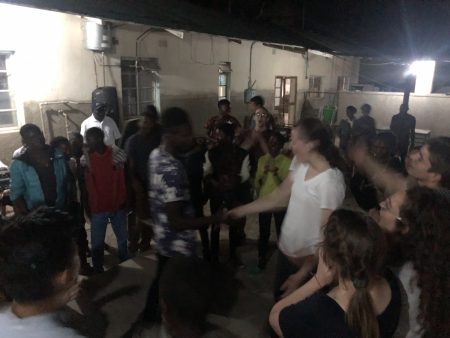 We expected the dinner at the priest's house to be low key but we soon became aware that it was more like a huge party. Father Yona invited the Zambezi youth (community members ages 15-25) so that we would be able to interact with others in the community our own age. They brought huge speakers and microphones so that they could sing and dance with us. We each got to share a piece of our culture when they shared with us a popular dance in Zambia that involved A LOT of dancing with your hips and we in turn taught them the Cupid Shuffle and the Electric Slide. This sharing of traditions was such a fun way to allow us to meet even more friendly faces from the Zambezi community. The night continued with lip sync battles and dancing to Post Malone as well as One Direction with a Catholic Church Youth group. I can honestly say this was something that I never expected to do in Zambezi, or even at home. To quote Ethan, "That was the sauciest youth group I have ever seen." Megan wanted me to add that she even got pulled up on stage and was serenaded to and even received a "proposal!"
When classes began on Monday my team and I wanted to repay the favor and ensure that we made our students feel just as comfortable in our class as they had all made us feel in their community. Gonzaga's longstanding relationship with the Zambezi community has provided all of us the opportunity to be welcomed into this community and learn and grow from the people here. I am in awe of the way that individuals here are able to make a large group like us feel so welcomed and so loved in such a short amount of time. Many people in Zambezi live their lives focusing on their relationships and interactions with others. They provide kindness and a friendly face to almost everyone that they encounter. This is something I have learned and admire about the people here even in just a short amount of time. I truly aspire to take these lessons and apply them to my own life at home. I am beyond excited for what the next three weeks have in store for me and my other Zags here in Zambezi!
Lots of Love,
Annika Helgesen '21
P.S. To my friends and family: I miss you all so much and cannot wait to share all of my stories and experiences here with everyone! Love you all!
Katie – Ellie and I love your comments, they make our day J We love and miss you!