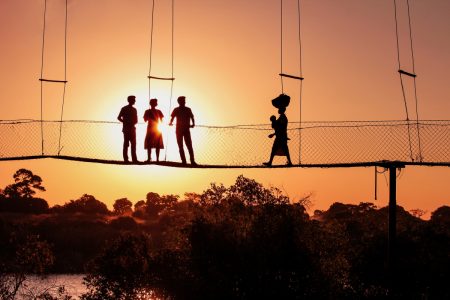 Tambokenu, mwane. Welcome back to the Gonzaga in Zambezi blog. In May 2007, Gonzaga University and the Zambezi, Zambia community wrote the first chapter of our partnership, a relationship rooted in the ethic of accompaniment. This practice of accompaniment asks each Gonzaga student (now 300+) to walk in solidity with Zambians as they move to greater levels of community self-sufficiency and personal empowerment. Through community engaged projects, students and faculty strive to operate at eye-level with this rural community in opposition to the "savior complex" of many short-term international tours.
After a pandemic pause since 2019, we are excited to write the next chapter of accompaniment with our friends and mentors of Zambezi. On May 18, 2022, a team of 18 undergraduates and four faculty/staff will embark on a five-week study abroad program. Our program is rooted in relationships and we are thrilled to reunite with friends, young and old, that have hosted and taught Zags for more than fifteen years. If you are unfamiliar with the Gonzaga in Zambezi program, I encourage you to watch the 2 minute video below.
We hope you will follow along during the next five weeks as Gonzaga students reflect daily on their experiences in Lusaka, Livingstone, Botswana and Zambezi. We invite you to comment below each blog post (we will read each one) and let us know what you are learning through our words. If you are an alumni of the program, we hope you will share a memory or greet a friend in Zambezi.
For returning faculty and staff, our travels in Zambia have been transformative and we await the journey ahead, knowing the stark hardships and deep joy that this next chapter holds. I want to leave you with a stanza from Irish poet John O'Donohue's For the Traveler blessing:
May you travel in an awakened way,

Gathered wisely into your inner ground;

That you may not waste the invitations

Which wait along the way to transform you.
Dr. Josh Armstrong